If you've been following along you know that Jake & I got to spend some time in Dublin! Here's a little recap of how we spent our time. Yes, I was bad about documenting as we went along, but hey…better late than never! And if you're planning a trip to Dublin feel free to use this as a guide.
Day 1: Slow start & Planning
We started the day off slow…trying to adjust to the time change. We enjoyed a lovely Full Irish breakfast at Grove Road and started planning what we were going to do. Yes….we procrastinated planning until we got there. It's fine because it wasn't high tourist time, but if you go in the summer…you should probably plan ahead.
Day 2: Book of Kells, Guinness Tour
Our first full day in Dublin was loaded. We started with a fabulous breakfast at Brother Hubbard. Seriously one of the best avocado toasts I've ever had. From there we walked to Trinity College to see the The Old Library and the Book of Kells. Upon crossing River Liffey, we were greeted by the hustle and bustle of the city. A lot of the side streets looked untouched with cobble stone streets, hopping with pubs, and filled local shops. Upon reaching Trinity College, we were in awe of the beautiful campus particularly the detailed architecture. This gorgeous college was founded by Queen Elizabeth I in 1592, so you can imagine just how incredible the campus is. Entering The Old Library, we were stunned. The detail in this beautiful library isn't something I can describe….it's something you have to experience for yourself.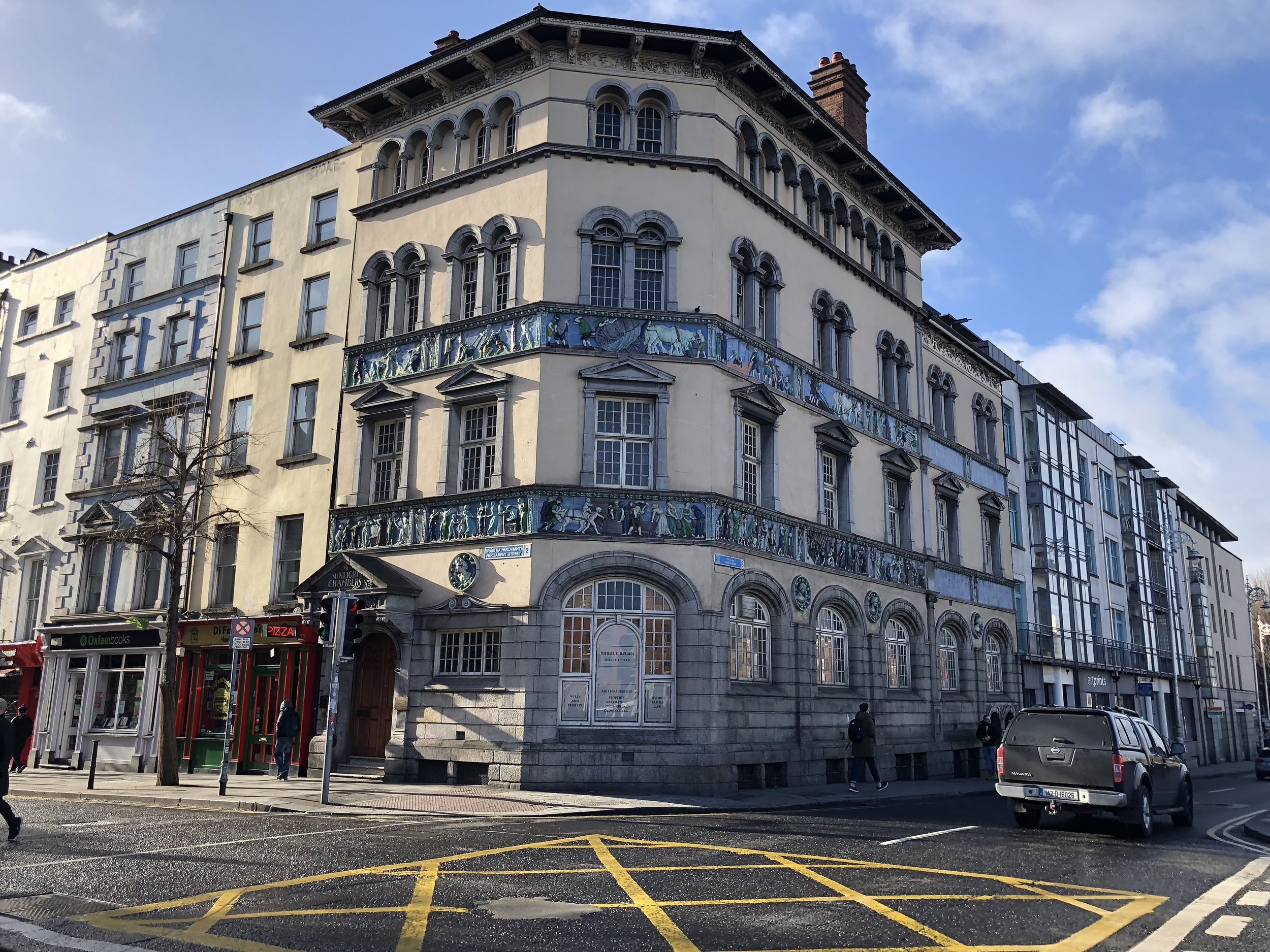 The Book of Kells exhibit was interesting. The Book of Kells is a 9th century manuscript of the four Gospels from the New Testament. Part of the exhibit I was particularly intrigued by was the section about how the monks made their own inks. I stared at the intricate illustrations and couldn't imagine how much time and effort it must have taken to make the inks and then create those detailed illustrations.
After The Book of Kells we wandered around a few nearby shops and grabbed lunch at a pub. I couldn't tell you the name of it because there are so many pubs all around. Then we walked toward Grafton street to explore the shopping scene. After a few hours of wandering around we went to Queen of Tarts for an afternoon pick me up of Irish Coffee & chocolate cake. Very yummy!! Then we headed toward the Guinness Storehouse.
I'm not a huge beer drinker, but I truly enjoyed the Guinness tour. The self-guided tour outlined the process of how beer is crafted. It reminded me of slow fashion, in a sense, because there are so many steps that go into the process. And the long process isn't something that we think about on a regular basis. We're just used to having the luxury of going to the store and buying beer that we forget everything that goes into it. After learning the process, guests are able to taste a few different beers and at the end of the tour guests can enjoy a beautiful view of the city at the 360 bar.
Day 3: A Change of Plans & Local shopping
We originally had plans to go on a day trip to the Cliffs of Moher, but due to a tropical storm we had to change our plans. Honestly probably a good thing because we were exhausted from the previous day. So we decided to sleep in and enjoy brunch at The Woolen Mills. I had a traditional Irish Breakfast that was fabulous. We visited the Aran Sweater Market and purchased some high quality wool sweaters made in the Aran Islands. I was also able to visit a few stores that focus on ethical clothing such as Fat Face and Fresh Cuts Clothing which was cool.
Day 4: Work, work, work
Jake headed off to work, so I took the day to get some work done too. I headed to Eathos to enjoy some tea and work the day away. Incredible food too! I loved their Moroccan Eggs. We ended the day eating at The Sussex. I had a fabulous Shepards Pie and Jake had some amazing fish. Definitely a great, quiet spot for dinner.
Day 5: Hop On-Hop Off Tour
Jake had to work all day, so I explored on my own with the Hop On-Hop Off Tour. This was a good experience because I was able to get a feel for the layout of the city. The tour took us slightly beyond the main parts of the city which was nice. I wish I would've done this closer to the beginning of the trip to better learn the layout of the city and more attractions. But I took notes for our next trip to Dublin! We ended the day at FX Buckley to celebrate an early Valentine's day with steak and wine.
Day 6: Dublin Castle Tour
My last day in Dublin I toured the Dublin castle which was fascinating. I learned a lot of the history of Dublin and specifically the progression of how things came to be in Ireland through the building/rebuilding of the castle. And to learn how parts of the castle are still utilized today. I did the guided tour which I definitely recommend. After the tour I enjoyed some time in St. Sephen's Green before heading back to the hotel and packing up.