We spent two full days in Rome! The architecture, history, & food was amazing! Wish we had a bit more time to explore, but it gives us an excuse to come back one day! We stayed in an Airbnb near the Colosseum which turned out to be a great location! It was about a 10 minute drive to the train station, a 15 minute walk to Trevi fountain, & a 20 minute drive to the Vatican. I've linked some of the tours we booked in the post below & written a separate post about a couple restaurants, here, if you're planning a trip anytime soon! :)
Day 1: Vatican Museums, Sistine Chapel, & Bus Tour
Before arriving in Rome we booked the Priority First Early Entrance: Sistine Chapel & Vatican Museum Tickets. This included a guided tour and early morning access to the sights before they opened. The early access was definitely a plus, it was not too crowded! And by the time we were leaving it was starting to get packed. However, our tour guide seemed to be rushing through things which was a bit disappointing! But it was a good experience! There is just so much to see! The Sistine Chapel is beautiful and incredibly overwhelming in a breathtaking sort of way. So much intricate detail!
After our tour we walked over to St. Peter's Basilica, but the lines were already outrageous! So we'll just have to make it back to Rome one day! We found a near by restaurant and paid way too much for an overpriced subpar breakfast and went on our way! After this we joined a hop-on hop-off bus tour which took us around to other sights. Since our apartment was conveniently located near the Colosseum this was one of the hop-on hop-off stops, so we were able to easily get off near by!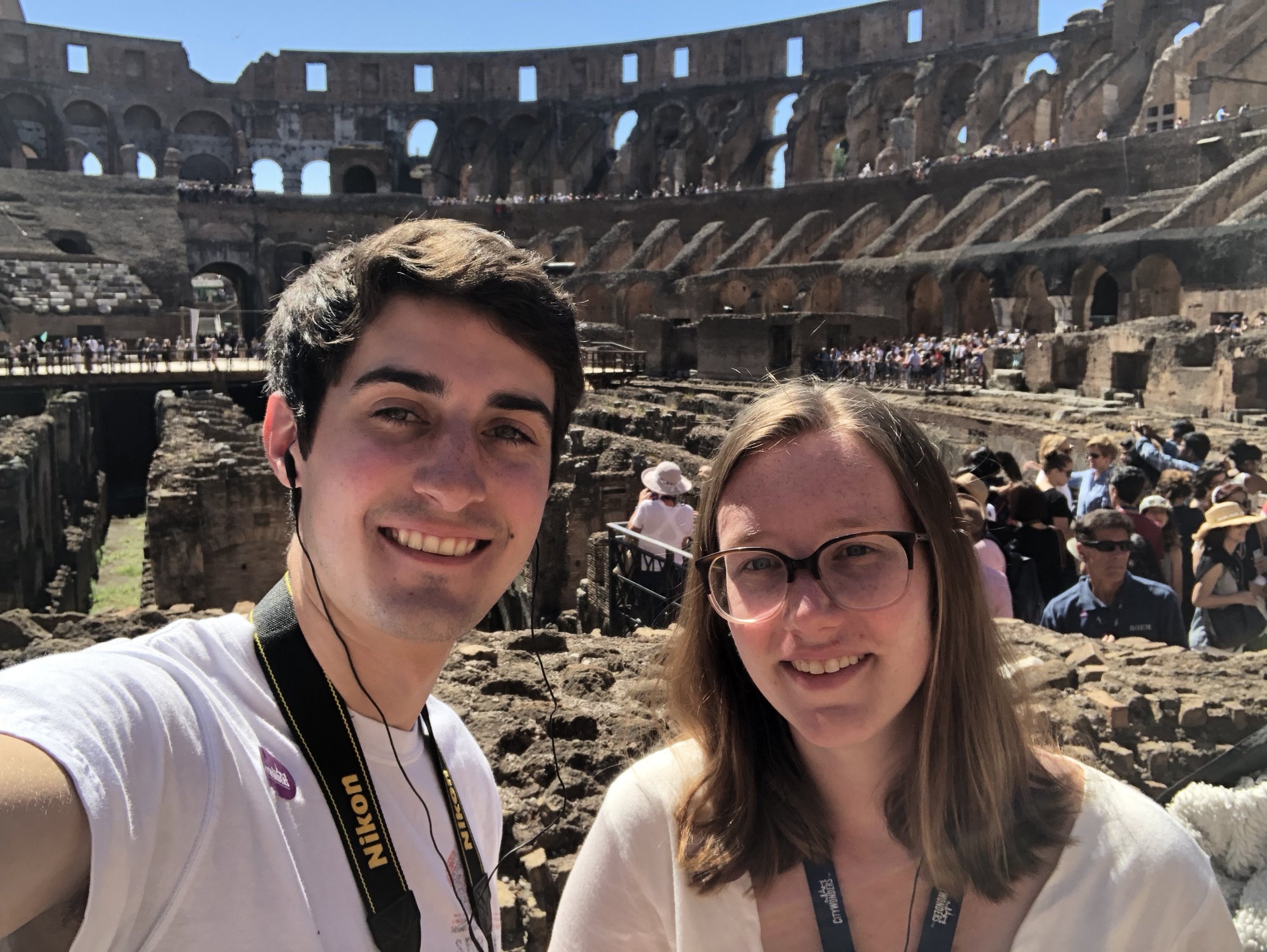 Day 2: Colosseum Tour, Roman Forum, Palatine Hill, & Trevi Fountain
We started off the day with an excellent group tour. We booked the Small-Group Tour of the Colosseum Including Roman Forum and Palatine Hill. The Colosseum was jaw dropping and so cool to see in real life. Our tour guide was incredible! She was passionate about Roman history and very knowledgeable! She was eager to answer any questions the group had and considerate of everyone! This tour was a wonderful way for us to learn the history more in depth of the Colosseum, Roman Forum, and Palatine Hill. Honestly, had we not done this tour I probably wouldn't have known much about what I was looking at when we got to the Roman Forum & Palatine Hill. 10/10 would recommend this tour!
After our tour we headed back towards our apartment and ate at a hole in the wall pasta shop that was WONDERFUL! Then we headed to Trevi Fountain. The Trevi Fountain was stunning. I really enjoyed this! Since it was hot and crowded, of course we had to get gelato! Then we strolled around and did a bit of shopping!
For more tips & tricks on ethical living & travel follow The Honest Consumer on social media!